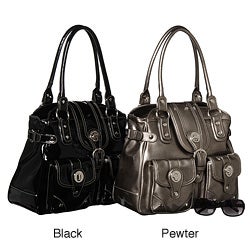 My age anniversary just passed. I don't like calling them birthday's anymore. The word is too old fashioned. At any rate, my age anniversary just passed and I was showered with all types of goodies. Apparently my mother took notice when I went giddy over a handbag I saw at our local Sam's Club.
It's called a London Fog 'Audrey' Tote Bag. They lit it up in their window, and made it look all shiny and beautiful, and even outside of the lit up casing the tote bag looked gorgeous. The main reason I wanted it were the pockets. I carry a lot of things around in my bag, and the different compartments makes it easy for me to stay organized, and it makes it easy to find things for when I need to grab them quickly.
Thee bag features 2 small outside pockets with twist lock clasps. These smaller pockets are the perfect size for my cell phone and pack of ciggs.
In the back exterior there is yet another flap compartment, with a magnetic button closure. It's a great spot for plopping in paper, documents, or whatever else you fancy.
The material itself is made of crinkled faux leather, which is shiny and eye catching. I was given the one in black, and I love it, because it can go with anything.
Inside of the London Fog 'Audrey' Tote Bag there are a bunch of nifty compartments. One zipper compartment right in the middle is the perfect spot to put your wallet, or add money or change, as is. There are 2 larger open compartments which are divided up by the middle zipper compartment. I like these 2 areas for storing nick knacks like mints, gum, deodorant or perfume.
On each interior wall side of the bag there are 2 compartments. One contains zippers, and the other side are smaller open flaps for makeup and such.
All together there are 10 separate compartments located inside and outside of the bag. It really helped with organizing my things, for faster access. My old bag only had 3 compartments, so things sort of just piled up on top of one another.
All in all, the bag is beautiful, with lots of room, and tons of compartments. It has a nice high quality look and feel to it, and fits snuggly under your arm. I would have liked a longer shoulder strap though, but for what it packs, it's lovely as is.
Overall:
London Fog 'Audrey' Tote Bag has plenty of room, has a beautiful look to it, and is made with quality in mind. I'm sure I can get a few years out of this bag before even considering having to buy a new one.
I'm not sure what my mother paid for this one, but after seeking it out online I found it ranges in price from $100.00 and up. It was also featured in an issue of InStyle.