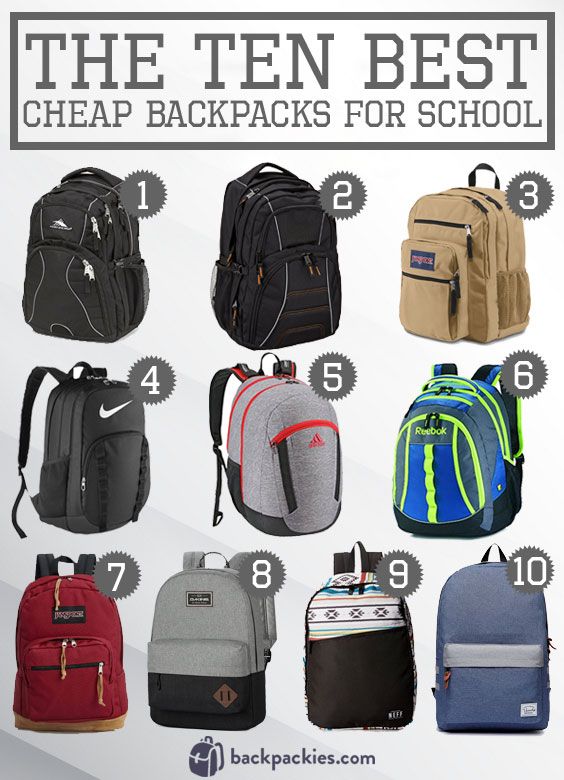 Fashion for high schoolers is an extremely fine line to walk. On the one hand, teenagers have reached the stage where they're trying to establish their own identities and push their boundaries, which means that they want to resist conformity. On the other hand, fitting in is a vital part of the socialization process. In other words, they want to stand out without being singled out.
This conflict extends to every aspect of a high schooler's outward appearance. This includes their school supplies, especially their school bag, which is the most outwardly visible school accessory they'll have. And on top of everything else, their school bag needs to be functional as well as fashionable. The tried-and-true backpack has served students of all ages for generations, and there's certainly nothing wrong with the design, with one minor exception: it's predictable. Conventional. BORING.
So here's the conundrum: high school students want a bag that stands out in the sea of mundane, cookie-cutter backpacks, but it still needs to have all the convenience of a backpack. It may sound like a lot to ask for, but it's not really such a tall order. There are some quirky options out there, and most of them are relatively easy to find as well as affordable. Below are my suggestions for the Best Backpack Alternatives for High School Students.
Messenger Bags:
Okay, so messenger bags have been popular for a few years now and are almost as mainstream as backpacks. However, they do have a certain flair and stylishness that backpacks lack. Messenger bags come in a variety of styles and materials, from a /Tips for Packing a Hospital Stay Bag for a Cesarean Birth/When you already know that you will be going in for a routine cesarean section birth you are blessed with the time to pack your bag with the most important items for the days following the birth of your baby. There are so many items that you may wish you had if you had more time to pack…but this is not the case when the birth is planned. Sometimes it is still hard to determine which items you will need once you are at the hospital and you find that you still forget things. Making a list of items to bring will help reduce the mistake of forgetting things.
A cesarean section birth will likely keep you in the hospital for a minimum of 3 full days which can seem endless. The following items should be packed into your hospital stay bag so that you do not feel like you left everything that you needed at home.
Clothing: Make sure that you have a change of clothes for 3 days. The clothing should be loose fitting and comfortable lounge wear type clothing. You will spend a lot of time being pretty uncomfortable so don't expect to be wearing a pair of jeans the day after the surgery. It is smart to bring your maternity clothes with you as most women will not return to their pre-pregnancy weight for a few weeks or more following the birth of their babies.
Make sure that if you will be nursing your baby you bring nursing bras and if not you bring a few bras that have strong support. The support will be necessary to reduce the engorgement that often comes following the birth of a baby. You will also want to bring some cotton loose fitting underwear-preferably some that you do not mind throwing away later because there may be incision stains on them.
Electronics: Most hospital rooms will have a television set but many mothers do not care to watch a lot of TV following the cesarean birth. Bring a radio with you to listen to or an MP3 player if you wish to listen to music during the three day stay at the hospital. You should also bring a camera and a charger for the camera or the batteries in the camera. The first days following the birth of the baby will likely include many pictures so make sure you have lots of spare batteries.
Baby Items: You will be in the hospital for three days and this means that your baby will be too. Make sure that you bring enough clothing and blankets for your new baby for the first three days of life. Remember that babies tend to be messy during the first days so a few changes of clothing per day will be necessary. Many hospitals will provide clothing for the baby as well as blankets, but if you wish to use your own supplies then you will need three days worth.
Things to Do: Boredom will be the biggest concern by the third day in the hospital. Usually at this point you are feeling a bit better and ready to go home. Boredom can nearly drive you crazy while sitting in the hospital so make sure that you have lots of things to do. Crossword puzzles, your laptop, anything that you can sit and do quietly in between sleeping and baby feedings will be a great relief during those final hours that you are stuck waiting to go home.
Toiletries: Three days in a hospital will warrant about three showers. Keep this in mind when packing your hospital stay bag. The last thing you want to do is try to brush your hair with a hospital comb after shampooing with what they claim to be "shampoo". Hospital shampoo tends to leave hair anything but manageable. Pack some shampoo, conditioner, makeup, perfume, and any other toiletries that you may be accustomed to using on a daily basis. They will likely help you feel a little better once you get all cleaned and dressed in those first days following the birth of your baby.