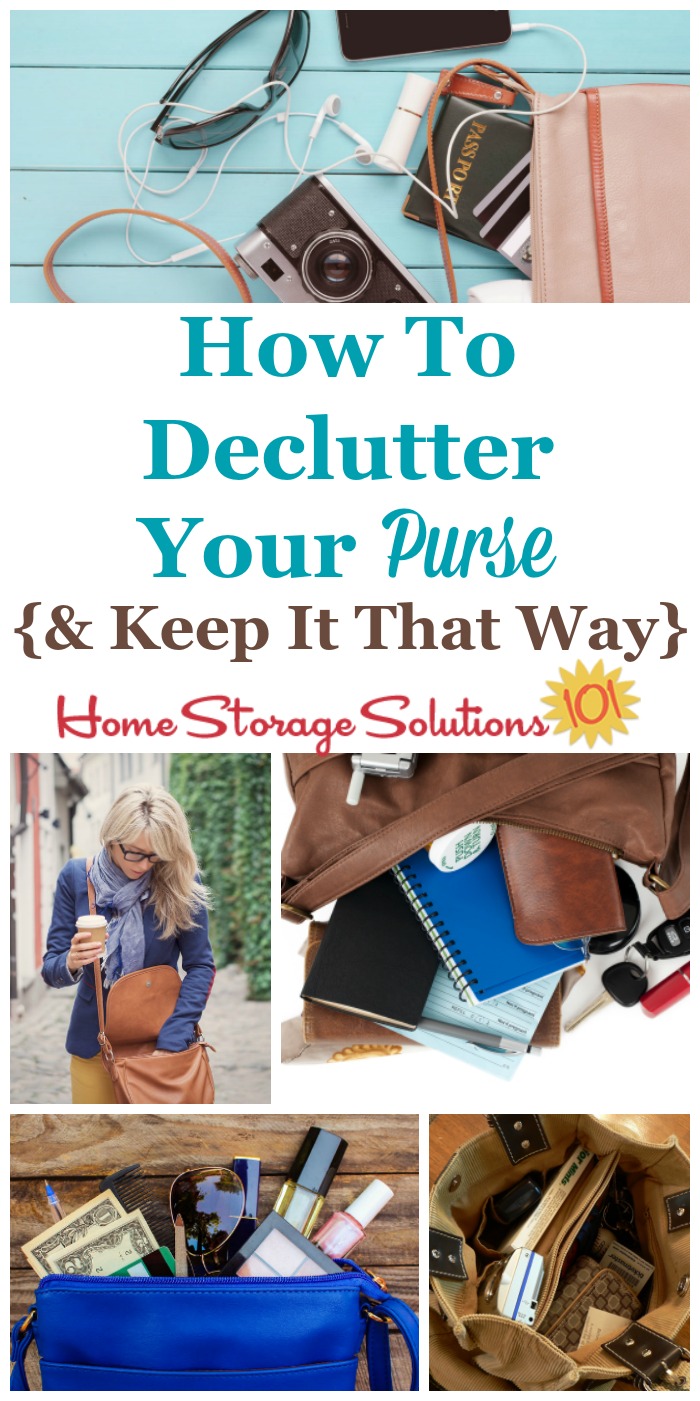 Keeping your handbag or purse organized can help you get through your days with ease and ensure that you never lose your wallet, cell phone, makeup and other necessities. It's important to spend a few minutes decluttering your handbag or purse each week, especially if you're always on a tight schedule and are transporting that bag from one event to another all day long. A clutter-free handbag or purse will help you find what you need, when you need it, and also ensures that you're carrying the lightest load possible each day.
Use these simple tips to declutter your handbag or purse:
Throw out all old receipts. Make a pile of all the receipts you have stored in your handbag or purse and only keep the receipts that you need for tax purposes (or memories). Tear up and throw away all other receipts to lighten your load and declutter your favorite accessory.
Organize your makeup. If you use your handbag or purse to carry some of your makeup basics for the day, make sure these items are stored in their own compartment so that you can find them easily. If you carry an oversized bag or tote, consider buying a small cosmetics case. A separate case can keep your makeup clean of debris and dust that settles in our bag, and will also make it easier to find that much-needed lipstick at a moment's notice.
Throw out old pens. Handbags and purses can quickly become a storehouse for pens and pencils. Throw out any pens that don't work anymore, and plan to keep just two or three pens or pencils on hand for note taking. Stick with retractable pens that won't leave ink stains in your purse or leak onto other items in your bag.
Create a key compartment. Finding your keys in that black hole of a purse can be a challenging task especially when you're in a hurry or when it's too dark to see inside your bag. Designate a zippered compartment or pocket in your purse just for your keys so that you never have trouble finding them. Empty out a pocket or compartment if you have to so that you have just enough room for your key chain.
Throw out old candy, gum and snacks. If you carry a pack of gum, candy and other snacks in your handbag or purse, make sure these items aren't past their expiration date. Don't keep snack bars and other foods in your purse if you can help it – if you do need to pack food, brown bag it and consume it or get rid of it the day of. Leaving food in your purse can attract ants and you could end up hauling around a few long forgotten moldy snacks.