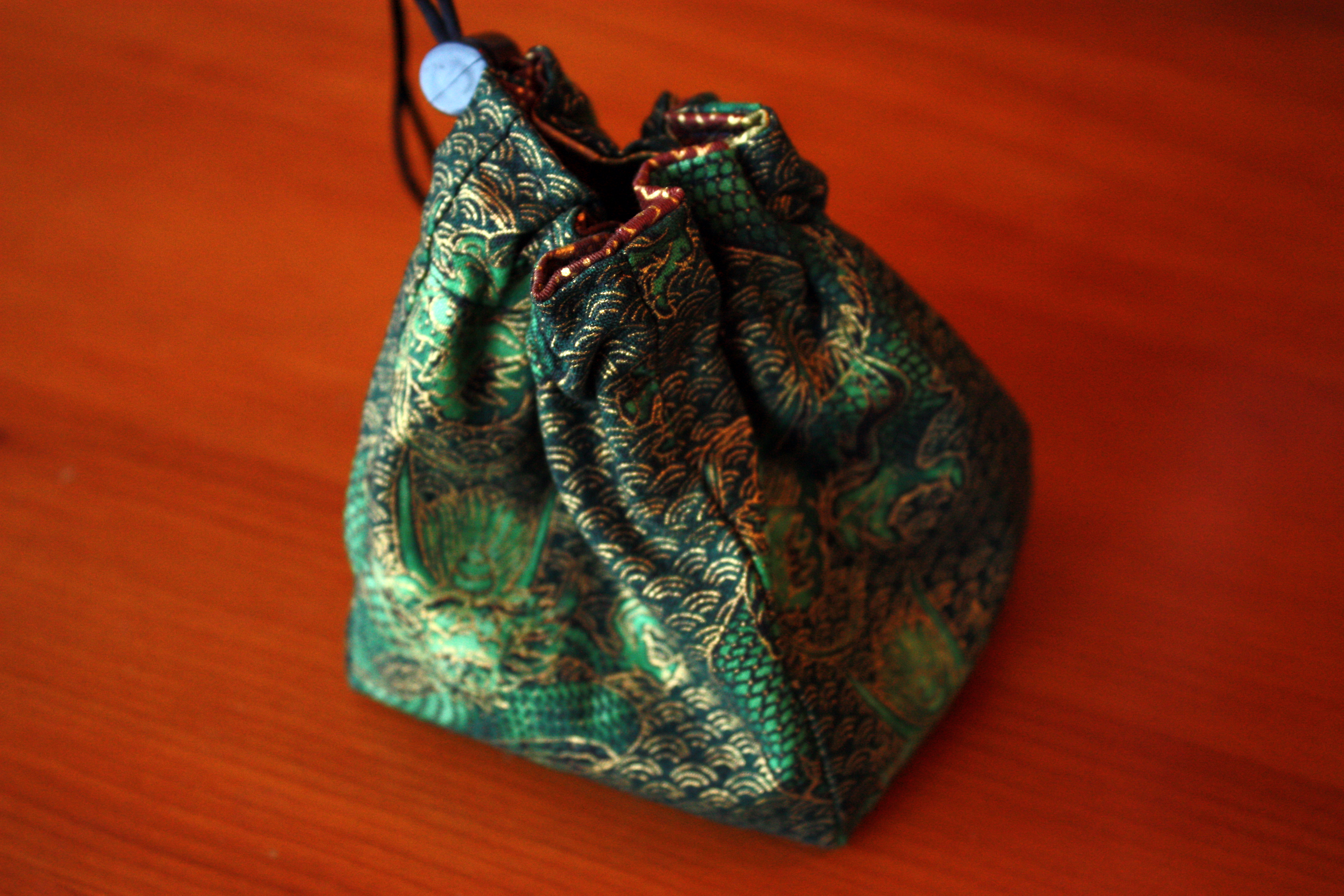 The main staple of a table top gamer's tool bag is polyhedral dice, and a sign of gamer vanity is the dice bag. I've been gaming for two years, and in that time, I've had generic dice bags, small boxes, and pencil holders to hold my dice collection.
Lyndsay at Dragon Chow Dice Bags (www.dragonchow.com) produces handmade cloth dice bags that are beautiful, fun, sturdy, and effective. As a gamer, Lyndsay has an understanding of what gamers like, and her bags reflect this. Her standard dice bags are made with a flat bottom to keep the bag upright, keeping dice from spilling out when the bag is set down on the table. The drawstring keeps dice safely inside during travel, and her bags are reversible, a characteristic I personally like because I like to change the look of things every once in awhile.
The standard dice bags are about five inches tall with a four by four footprint. Dragon Chow offers designed dice bags, solid color dice bags, and custom orders. They also have dice bags with pencil straps. The dice bags come with a d20. Dragon Chow also sells sets of polyhedral dice, so if you're a new gamer or just looking for a new set, you can easily buy a dice set with your new dice bag. Dragon Chow standard dice bags are $12.00 and the tall pencil bags are $16.00 plus shipping and handling. Polyhedral dice sets range from $4.50 to $6.00 plus shipping and handling (free for orders over $35.00). Dragon Chow ships from Canada to the US and internationally.
The merchandise looks good online, but how does it stack up for real? I'm happy to report that both my husband and I love our new dice bags. As promised, we have no issues with spilling dice as the bags sit upright perfectly on the table. They carry at least two sets of polyhedral dice comfortably, and the drawstring pouch keeps the dice secure for travel. In fact, after a gaming session a week or so ago, I was able to toss my dice bag into my backpack without worrying about it spilling dice all over the place. The dice bags are also very stylish, and we're having fun showing them off to our fellow gamers.
If you're in the market for a good quality dice bag, go to Dragon Chow. Lyndsay does custom orders as well if you can't find something in her inventory, so you're bound to be happy with the service and the product.